Each studio has a terminal for design and presentations work, such as posters for marketing presentations.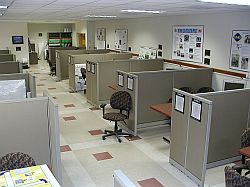 Overview of the Design Studios.


One of the many Design Studios in the Cuskie Design and Creativity Center, provide student design teams with a place to meet. Each student cubicle has a plaque showing the alumni donor.
DONORS for Design Studios
Room 209:
S. Bruce Davis '58
Stuart K. Koford '76 President of Koford Engineering
Paul G. ('60 ME)and Margaret Mahoney
Jack W. Sullivan ('68 ME)
Robert and Mildred Dee
Peter P. Sandretto Jr ('64 ME) and Dr. Anita M. Sandretto
Dale J. ('68 MS in ME) and Sarah Roberto
David C. ('65 MS in ME) and Karen Hill
Fred Sheriff ('35 ME)
Craig C. ('42 ME) and Donna Lazzari
Dr. James G. ('47 ME) and Frances M. Vorhes
Frank E. ('47 ME) and Leslie L. Agosti
Paul F. Oreffice and JoAnn Pepper-Orefffice
William F. Hartwick ('48 ME)
Paul R ('50 ME) and Harold N. ('41 ME) Lepisto
Room 101