---
"Students working on projects of this scale no longer feel like students. They feel like engineers. They take ownership of the project and that's the magic. Now THEY own their education, and that's the first step towards being a professional."
Dr. Carl L. Anderson
Associate Professor ME-EM
The Student Innovation Center also includes the Dan and Carol Rivard Product Realization Center, where mechanical engineering students can bring their designs to reality.
---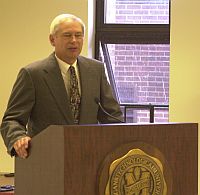 Daniel ('59 BSME) and Carol Rivard Product Realization Center
"Michigan Tech has long been recognized as producing graduates with hands-on experience. We appreciate the opportunity to support the university's long-standing, continuous efforts to provide this experience to students through this facility. The best ideas shine brightest when transformed into things that can be used to everyone's benefit.
Our parents, Harold and Eleanor Kennedy and Louis and Margaret Rivard, inspired us to appreciate the satisfaction that comes with doing and making things for ourselves and others. Carol's father, Harold, also helped educate many students in Tech's early days as an instructor in the old Shops building."
Here members of a student design team machine their design in one of several Product Realization Center labs; this one is the Metals Lab.
Michigan Tech has industrial partnership programs where students may participate in designing, machining and testing new high-performance engine parts for the automotive industry.
If your'e going to be an engineer, it is good to know all phases of designing, modeling and fabricating a new product, and Michigan Tech offers the hands-on opportunities in the Student Innovation Center.
The Product Realization Center includes the Richard and Jean Randolph Non-Metals Lab and the Metals Lab where mechanical engineering students can fabricate the new products they have designed.
Left above, a student using Non-Metals Center in the Product Realization Center labs, this is the Randolph Non-Metals Center.
Senior design teams also have to produce their own promotional presentations for their new innovation or product.