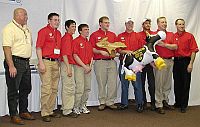 The University of Wisconsin, Madison team won first place overall shown here receiving the trophy from Bill Manson of the International Snowmobile Manufacturers Association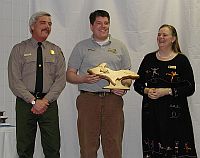 The Michigan Tech team won second place overall. Jim Evanoff, superintendent of Yellowstone National Park and Phyllis Green superintendent of Isle Royale National Park resented the award.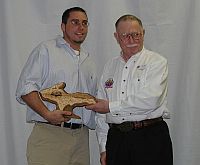 Third Place was won by the University of Maine team and presented by Jim Duke (right) of the American Council of Snowmobile Associations.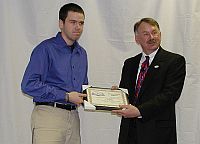 Fourth Place was won by the State University of New York, Buffalo team and presented by Jay Meldrum of Keweenaw Researxch Center (right) for Thermoanalytics, Inc.



Fifth Place was won by the Clarkson University team and presented by Dale Wiza of the Milwaukee Chapter of SAE.
University of Maine tied with the University of Wisconsin at Platteville for the Emitec Award for Best Value and University of Wisconsin at Platteville won the International Engineering and Manufacturing Braking Award (Woody's) .
University of Waterloo received the Founders' Trophy for Most Sportsmanlike Conduct named for Lori Fussell and Bill Paddleford, SAE CSC founders
Go to Current SAE Clean Snowmobile Challenge
at Michigan Tech ME-EM Web site


Report and Photos of SAE Clean Snowmobile Challenge 2004 at Michigan Tech


Click on picture for a larger image

"We want to thank all the snowmobile industry participants and the snowmobile organizations and all of the volunteers for their generous support of the 2004 SAE Clean Snowmobile Challenge events at Michigan Tech."
- From the Department of Mechanical Engineering-Engineering Mechanics and Keweenaw Research Center
| | |
| --- | --- |
| | |
| President of SAE Duane Tiede (left) presents a plaque to Michigan Tech ME-EM chair Bill Predebon in recognition for hosting the event, Looking on is Bob Sechler, manager of Educational Relations, SAE, with Jay Meldrum of KRC. | President of SAE Duane Tiede presents the 'Best Design' trophy to University of Wisconsin- Madison team. |
| | |
| U.S. Army TACOM/National Automotive Center Center Award for Best Handling was presented by Dan Kedziorek (left) to Ecole de Technologie Superieure, Montreal. They also won the Dana Long Manufacturing Award for Best Acceleration. | John Lally of PCB Piezoelectronic presents the Quiestest Snowmobile award to Michigan Tech team. |
| | |
| Gage Products Award for Best Fuel Economy went to the University of Maine team, presented by Bob Patzelt (left) and Jennifer Borchardt of Gage Products. | All 5 of the teams that completed the 89 mile endurance run to Copper Harbor received an award from Rick Brown president of the Michigan Snowmobile Association. |
| | |
| All 14 teams also received a plaque as participants in the 2004 Clean Snowmobile Challenge, present by Michigan tech Vice President Dave Reed, ME-EM Chair Bill Predebon and MTU professor William Shapton of the MTU SAE chapter. | Best Performance award presented to Michigan Tech by Dick Locke of Land and Sea, MTU also won the Blue Ribbon Coalition Award for Most Practical Solution. |
| | |
| Lotus Engineering, Inc. and Horiba Instruments Inc., Award for Lowest Emissions presented by Don Apple (left) of Lotus Engineering to State University of New York, Buffalo team. | |