---
GERSHENSON TO RECEIVE NATIONAL EDUCATIONAL AWARD
From Tech Topics, Michigan News Bureau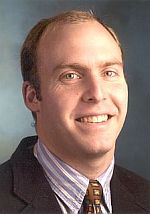 John K. Gershenson has been selected by the Society of Automotive Engineers to receive a 2005 Ralph R. Teetor Educational Award.
Gershenson is being recognized along with 13 other recipients. He will receive the award on April 12 during the Honors Convocation at the SAE 2005 World Congress in Detroit.
This annual award recognizes outstanding engineering educators. The program underwrites the cost of bringing recipients to an SAE meeting to participate in industry tours and meetings with industry professionals, aquainting them with professional activities in the automotive and aerospace industries.
Established in 1965, this award is funded through a generous contribution by the late Ralph R. Teetor, the 1936 SAE president, who believed that engineering educators are the most effective link between engineering students and their future careers.
Gershenson is an associate professor of mechanical engineering and engineering mechanics and directs the Life-cycle Engineering Laboratory. His research focuses on life-cycle product architecture and lean and sustainable design and manufacturing. His research interests include product and process architecture, product platforms, modular product design, lean manufacturing, lean engineering, life-cycle design and agile manufacturing processes. Research sponsors have included the National Science Foundation, General Motors, Ford, Lucent Technologies, SME and ALCOA.
Gershenson has advised some 135 capstone design groups over the last nine years. During his career, he has worked closely with industrial input to develop a suite of courses in manufacturing and a three-semester series in capstone design.
Gershenson has been honored with the National Science Foundation/Lucent Technologies Industrial Ecology Fellowship, the American Society of Mechanical Engineers (ASME) Leadership Development Award and the National Science Foundation Japan Institute Fellowship. He has served as the vice-chairman of the design theory and methodology committee within the ASME's Design Division and as a paper chair for the ASME IDETC conference, and has been a reviewer for the Shingo Prize for Manufacturing Excellence.
Gershenson is a graduate of Cornell University and Ohio State University and holds a doctorate from the University of Idaho.