Obtain your Mechanical Engineering graduate degree while working as an engineer with the Peace Corps
We are the first and only Master's International mechanical engineering program in the country!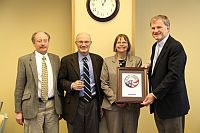 Michigan Tech, Portage Health Lauded by the Peace Corps
Michigan Technological University has the largest Peace Corps Master's International Program (PCMI) in the nation, with 55 students enrolled in seven programs. But it wasn't just the quantity of volunteers that brought the national manager of the PCMI program to the University Tuesday, March 30. It's also their quality.
Masters International Video from the Peace Corps
Michigan Tech Offers Nation's First Peace Corps
Master's International Mechanical Engineering Program
Peace Corps Master's International Programs at Michigan Tech is nation's largest