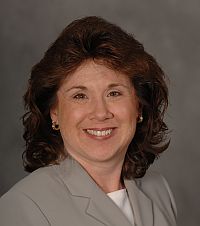 After 18 years of service to Michigan Tech, Donna Michalek left in 2010 to fulfill her dream of leading an engineering program. Tragically, she died in April after less than two years as chair of the Department of Engineering at the University of Mount Union.
Michalek joined Michigan Tech's mechanical engineering faculty in 1993 and held a number of positions during her time at the University, including associate chair in the Department of Mechanical Engineering-Engineering Mechanics. Most recently, she served as assistant provost, spearheading the University's accreditation effort and leading the National Science Foundation ADVANCE program to improve hiring practices in the science and engineering fields.
She worked tirelessly with the Tech chapter of the Society of Women Engineers as a mentor and faculty advisor, and the women's basketball team came to rely on her homemade cookies. An exceptional teacher, she earned Tech's Distinguished Teaching Award, the American Society of Mechanical Engineers' Ralph Teetor Award for teaching excellence, and the Dow Outstanding New Faculty Award, awarded by the North Midwest Section of the American Society of Engineering Education.
At ASME, she served as a Federal Fellow, volunteered on countless committees and was recently named vice president of the ASME Board of Government Relations.
Though her life was cut short, Michalek made a huge difference in the lives of many, particularly as an inspiration to young women. As a result, Michigan Tech and the ASME Foundation have created a scholarship to honor her legacy. The Donna Michalek Memorial Scholarship will be awarded annually to a deserving female mechanical engineering student at Michigan Tech.
"Donna was a wonderful friend and colleague, and where she really shined was in her devotion to our students," said Bill Predebon, chair of mechanical engineering-engineering mechanics. "Contributing to this fund will help keep Donna's memory and spirit alive and inspire a new generation of women engineers."
To give online, go to
www.mtu.edu/donna-michalek-scholarship
. You may also donate using a credit card by calling the Michigan Tech Fund at 487-2310 or toll-free at 877-386-3688.
To give by check, make it out to the Michigan Tech Fund and send it to the Office of Development by campus mail. Or, mail it to the Michigan Tech Fund, Michigan Technological University, 1400 Townsend Dr., Houghton, MI 49931-1295. Be sure to note that you wish to support the Donna Michalek Memorial Scholarship.