EVENTS
2010
Michigan Tech is one of 17 selected teams -- and the sole Michigan entry -- in the nation's premier hybrid vehicle competition
EcoCAR is THE premier hybrid vehicle competition in the nation…period.
Michigan Tech's EcoCAR Enterprise is the only Michigan entry in the competition, and one of only 17 teams from among 150 applicants and 44 full proposals
Our EcoCAR entry will feature a novel vehicle architecture integrating a 2.4L 4-cylinder engine, electric motor and dual clutch arrangement, and rear mounted transaxle and battery pack. This architecture was selected based on a balance of performance, economy, and packaging.
Michigan Tech's EcoCAR team draws on nearly 15 years of hybrid vehicle involvement, dating back to the inaugural Future Truck competition in 1995 and then the Challenge X Car Contest
2007 11thPlace Overall, 3rd in Acceleration
Lightest hybrid vehicle
2006 Competition, Mesa, Arizona, GM Desert Proving Grounds:
3rd place in acceleration and braking on basalt surface
Lightest hybrid vehicle
Completed trailer tow in 118oF temperatures without overheating
Operated as hybrid in every entered event. Only school to have operational hybrid each year since 1995, the start of FutureCar Competition.
About Challenge X (Archive)
The General Motors Corporation (GM), the U.S. Department of Energy, and other government and industry leaders have developed Challenge X: Crossover to Sustainable Mobility. This ground-breaking, three-year competition will provide engineering schools an opportunity to participate in hands-on research and development with leading-edge automotive propulsion, fuels, materials, and emissions-control technologies. Seventeen teams will re-engineer a GM Equinox, a crossover sport utility vehicle to minimize energy consumption, emissions, and greenhouse gases while maintaining or exceeding the vehicle's utility and performance.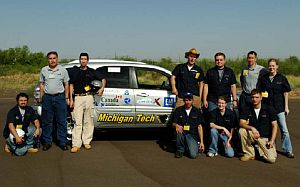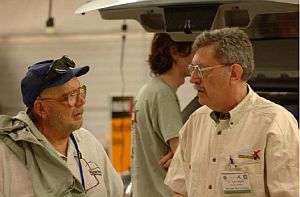 The most experienced team member in C-X competition (on left) . Ron Savela brings 40+ years of engineering skills to our team.